Happy Sunday everyone!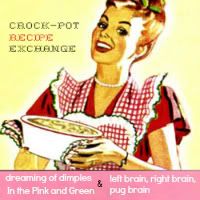 It's time for the next installment of the Crock Pot Recipe Exchange with my fellow hosts
Jessah
&
Andrea
. Today I'm sharing a delicious
Paleo
pork loin recipe that's perfect for fall and couldn't be easier. Check it out!
Crockpot Honey Apple Pork Loin
Ingredients:
Pork Loin, 2.5-3 lbs.
(I used two smaller pork tenderloins instead of one larger pork loin)
Red Delicious Apples, 3 sliced
(I also used a few more apples, I'd suggest adding extra!)
Honey, approx 4 T
Lay the apple slices (from two of the apples) in the bottom of the crockpot.
Cut slits in the pork loin (approx 1/2″-3/4″).
Place the pork loin into the crockpot.
Drizzle the top with the remainder of the honey.

This is such a simple yet satisfying meal, and I absolutely love the flavor combination of apples and pork with the cinnamon. Yum!
Finally, I want to thank each and every one of you who wished Cam and I well on our trip to Israel and Turkey. I truly appreciate each call/email/comment/text/FB/Instagram message, thanks for being so sweet! We are so excited for this experience, and I look forward to sharing all about it when we get back! We're off to the airport now (squeeeeeee!), so this is the last you'll be hearing from me until after we're back. In the meantime, I have some fabulous ladies lined up to fill in for me while I'm gone; I think you're all really going to enjoy their Thanksgiving-themed posts so make sure to stop by and say hello!

{And I just might be popping in with a few scheduled posts as well, so stay tuned!}

In the meantime, share your crock pot recipe below and have a fantastic Sunday! Xoxo