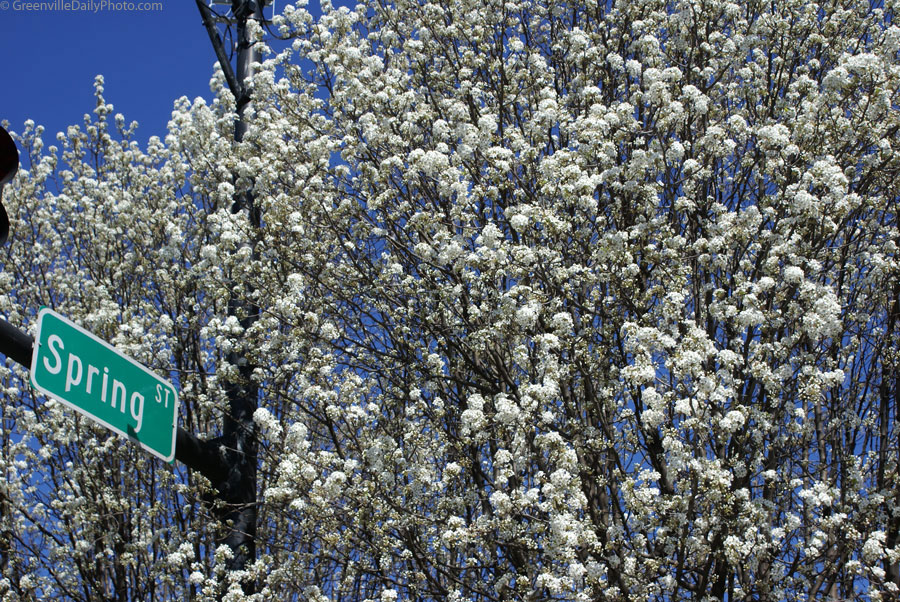 Photo credit: Denton Harryman-GreeenvilleDailyPhoto.com
Today is the first day of spring, yay!! While the weather today isn't as nice as yesterday and Friday, I must admit that I am thoroughly enjoying spring in the South! Here are some things that I am loving right now:
Flowers: It seems that everything down here is in bloom right now, a beautiful sight to see in March. All the trees are flowering pretty pink and white blossoms, I'm greeted by little yellow flowers and pink tulips every time I pull in my apartment, and I just bought a happy bunch of daffodils at Whole Foods after church today. It's little things like this that brighten my day!
Basketball: March Madness is in full swing, and while I'll admit I'm not really loving it (I'm actually getting sick of my HGTV time getting taken over by it!) but since Cam and everyone around me is, I figured it deserved a mention. And I am loving the fact that Michigan made it to the second round and I've got my fingers crossed that they beat Duke today!
Dog Park: Now that the weather is so gorgeous, we've been trying to get Lola to the dog park in downtown Greenville at least once a weekend to get her used to being around other dogs. I think that all the socialization is good for her and it certainly helps burn off some of her puppy energy! And I think that I enjoy it just as much as Lola does because it's so much fun to see the wide variety of dogs that come every weekend.
Sunshine and longer days: Even though I am not a fan of losing an hour thanks to Daylight Savings Time, it's SO nice to get out of work and have some daylight left! I love being able to take Lola for a walk after work or go to the gym and have it not be dark, and the days are only going to keep getting longer...lovely!
New Beginnings: I have been feeling very inspired in a lot of different way lately, and I think that spring only intensifies those urges for growth and change. Spring is the time for rebirth and renewal, and while I don't know what the future holds for us, I am excited about what's in store...even if I'm not sure what that is yet :)